SMART Board® 6000S
Top of the class
The Smartest SMART Board
The SMART Board 6000S interactive display's advanced and affordable technology brings capability to the classroom without bringing complexity. It's simple to deploy and support, which means savings in training costs and time, less change and effort for teachers, and fewer teacher support calls – all adding up to a lower total cost of ownership.
It's a long-term investment in your classroom. Robust interactivity and learning tools make it a powerful bridge between physical and digital learning. Intuitive user experience and competitive price make it a brilliant investment.
Tool Explorer
Hands-on digital learning
Support different ways of teaching and learning with your SMART Board interactive display. Use Tool-Explorer-enabled cubes, stamps, pens, and more for intuitive, engaging interaction and collaboration.


SMART Ink®
Mark up in real time
Teach one on one no matter where students are with ink that works on browsers, applications, files, and more.
Powered by iQ
No computer needed
iQ's integrated Android-based experience gives teachers an easier way to engage students that's specifically designed to be simple and accessible for all teachers, regardless of their comfort level with technology.
Automatic updates and ease of maintenance and support make iQ the best choice for ensuring your technology investment continues to meet the needs of teachers and classrooms now and in the future.
See iO


Bigger, better video conferencing
Engage remote learners
The 6000S's integrated microphone array lets teachers move freely around the class while maintaining consistently outstanding audio. Connect with remote learners using screen sharing, digital ink, whiteboards, and lesson-delivery tools to focus students' attention.
SMART displays work with UVC webcams, Zoom, Google Meet™, Microsoft Teams™, and more.
Support Windows® and Mac®
Works with your tech
Enjoy the SMART Board experience on any connected Windows or Mac computer. Get precision interaction and intuitive touch and ink with SMART Ink, Object awareness, and Simultaneous Tool Differentiation across web browsers and applications.


The centre of every learning environment
Connect devices and learning experiences
Flexible sharing and collaboration in and out of class helps bridge digital and hands-on learning. Students connect and engage easily, whether they're in the classroom or learning remotely. SMART Board 6000S interactive displays work with your other investments in classroom technology and infrastructure, so teachers can focus on teaching.
Multiple inputs
Easier use and management of connected devices
Plug multiple video sources into your SMART Board 6000S and use the live input preview for easy and intelligent switching among inputs. The convenience panel makes it easy to connect devices without searching for ports on the back of the display. Make notes over any connected device and use SMART's interactive widgets, such as spinners, timers, and clocks.

Now with USB-C
Easily connect USB-C devices through the 6000S's 60-watt USB-C port. USB-C supports video, audio, touch, data, and power with a single cable.
Feel confident about your EdTech investment
SMART Assure warranty
Save money and time with a full-coverage warranty that includes remote troubleshooting and hardware replacements.
SMART Remote Management
Push updates, run diagnostics, maintain, control, and secure your 6000S from any web browser.
World-leading quality
Expect the highest standards for safety, warranty coverage, regulatory and environmental compliance, and interoperability.
Adopt the 6000S faster
Professional learning
Improve teacher capabilities and confidence with free professional training aimed at every skill level.
Delivery & setup
Get your SMART Board set up fast. We help at every stage, from installation to integration and troubleshooting.
Technical support
Maximise uptime with expert support, tons of resources and access to a community with tips and ideas.
A SMART display for every classroom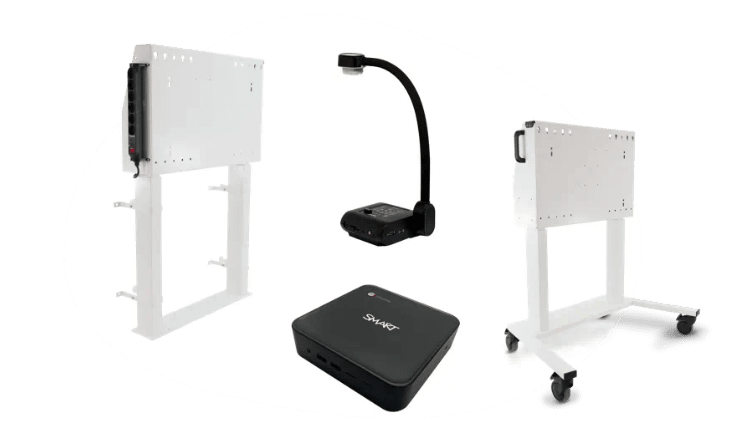 SMART accessories
Add capability with the SMART Document Camera and more.
See accessories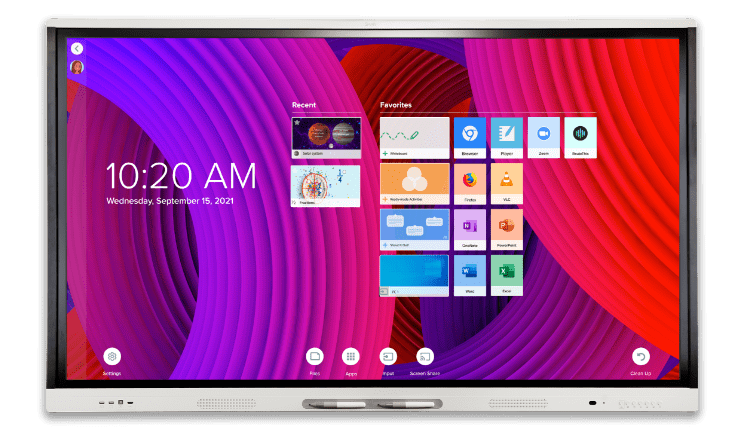 MX Series
Central to dynamic, collaborative learning environments
See the MX
GX Series
All the essentials for a great price